---
Testimonials
---
We are so happy with the gates and railings from Black Magic Metal Art. Nate created a beautiful Condor for our gate. It is truly art. The installers were polite and everything is as we wanted. We could not ask for more. I would definitely recommend.Ann O. in Fillmore, CA
Nate, the owner is extremely talented. Very experienced blacksmith with modern ideas. Makes great sculptures/fences and is very professional.Daniela A. in Porter Ranch, CA
Prompt response. Work completed as expected and on time. Professional staff.Dee D. in Thousand Oaks, CA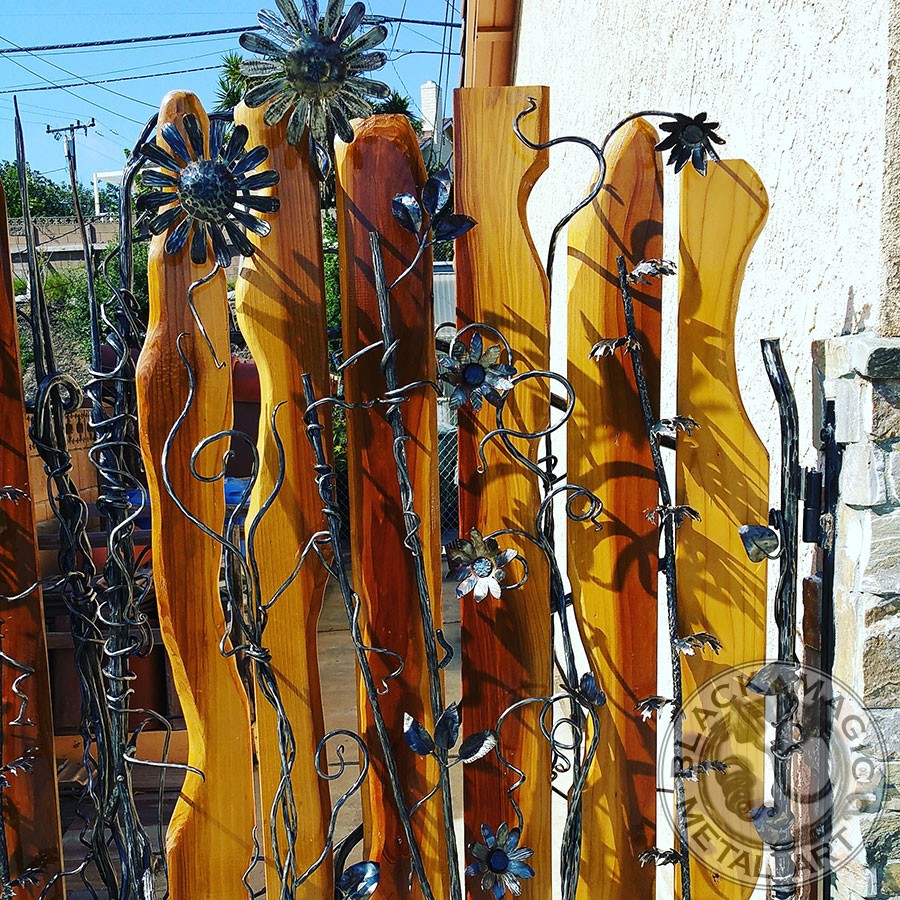 "Nate and the guys who worked on our project of replacing damaged wrought iron fence panels and painting the rest of the fence were professional, very pleasant to work with and perfectionists in their work. They also added steps down our hill and attached iron house numbers to a rock in our front yard. They worked quickly and did a great job! I would highly recommend the company and crew!" -Sherry L. in Thousand Oaks, CA
He did a great job, the fence looks great and he also did some extra details,. over all glad I hired himDavid G. in Oxnard, CA
Pleasure to work with. Prompt and efficient.Arthur P. in Ventura, CA
Nate and his assistant were terrific. He certainly is a metal expert. The work was done as promised and worth the money. He answered all questions and repaired my fence to last many years. A great job by Nate.Robert S. in Moorpark, CA
Nathan was so prompt in getting back to me! He is quite professional!Lisa S. in Thousand Oaks, CA
Extremely talented and professional! My custom handrail is beautiful, sturdy, meets code, and functional.Nancy C. in Thousand Oaks, CA
I hired Nate to do wrought iron fence repair and to add a gate on my back yard wrought iron fence. Nate took his time to explain what the defect rust issues with the fence were and manufacturing a gate and approximate how long the repair would take. Nate took his time to explain how he was going to manufacture the gate on site, being I could not visually see his vision.
The new gate turned out perfectly, visually and was seamless and blended perfectly with the rest of the wrought iron fence. . I could not be more pleased with the outcome Nate and his crew were professional and were promptly on time for a two day job. His crew are friendly and courteous and cleaned up after themselves daily. I would highly recommend and absolutely refer Nate and his crew to anyone needing a gate and or any metal fence repair.Thomas P. in Moorpark, CA
"Nate was great. The workmanship of the wrought iron gate is fantastic."-Pamela J. in Camarillo, CA
Our estimate was ready the day after checking job site. He arrived on time as promised. He cleaned up job site every day on a 4 day job. His work is not only perfect. He even puts a cloth under his truck ,so oil will not drip on the driveway. His workmanship is first quality and customer service is the best. Nate cares for his work and clientsRobert S. in Westlake Village, CA
Nate Hentges was my direct contact for designing my stair railing. I believe he is the owner of Black Magic Metal Art and I was very happy to work with him. He designed and installed a Work-of-Art in my Beach Condo. There were many steps that Nate helped me with that were required to be done prior to installing the railing. He helped me remove my old railing so I could stay on schedule with other projects. He also arranged to help me with a very special piece of glass that needed to fix exactly a certain way inside the railing. His care with my job exceeded my expectations.
Nate listened to my requests and designed a very simple, elegant but unique railing to fit beautifully in my home. I found his work to be very professional and he worked within my budget. I almost went to another company and I am so glad I chose Black Magic Metal Art. Nate kept me informed on his progress of designing the railing and surprised me many times with "Unexpected Benefits". He added something for the glass that was needed and the end of the job and he installed it as a final touch. My railing is beautiful, I am proud to show it off and very glad I met Nate. He is a true Artist. Joyce P.
Nate's love of metal shows in everything he creates, with so much texture and detail. He mixes his own colors (patinas) and the result is outrageously beautiful! We love what he has created for us and his art/work is always a topic of conversation with our guests!Jacqueline K. in Cascade, CO
He's a man of his word and take care of his clients.David F.
BMMA fabricated custom gates for our home. He took an idea we had imagined and made it a reality. He is friendly, down to earth and really easy to work with. He was also very patient in dealing with our indecisiveness about the final design. His product knowledge and expertise was very reassuring and made us confident that he was the right guy for the job. He got the gates done in a very timely manner as well. We couldn't have been more happy with the outcome. They are not only beautiful, they are a true piece of art! We get constant compliments. We can't wait to start future projects with Nate! Lisa C. in Ventura, CA
Nate designed and constructed our custom, one-of-a-kind gates and mailbox assembly and we couldn't be happier.Jerry V. in Thousand Oaks, CA
Black Magic Metal Art's custom countertops are stunning. You will not find anything like it anywhere. When you work with Nate, you work with a true artist. I have recommended him to numerous architects and interior designers who have hired Nate to make custom functional pieces for their clients. His gates are one of a kind. His wine racks are fantastic and make the perfect gift for your clients once you've completed the remodel.
Angela G. in Westlake Village, CA
Great service, Delivered on time!Mike Y. in Ventura, CA
"He does GENIUS VISIONARY work!! Gorgeous! I could see my gates, stairwells, and countertops done as I have seen in his pictures! But I do love the natural wood look in a hone, makes your home look warm and cozy with natural materials! Look at his pictures and see the beauty and magic he can conjure up for your project! You will have an original of beauty!" -Linda Coppen
Nate goes the extra mile for his customers. Bringing old world and new world components together to creating unique, beautiful art pieces.David Furst
The attention to detail on all of Nate's pieces is impeccable. Each project turns out so beautiful and unique. Nate is very professional to work with also.Meagan Szarkowski