---
About
---
---
I am Nate Hentges, artist and proprietor of Black Magic Metal Art Inc, founded in 2000. I consider myself a modern metalsmith, as I incorporate old world techniques in welding, black smithing, forging, and fabrication for modern times.
I began working with different metals and materials when I was a young boy helping my dad build custom homes. Over the years I discovered that I loved working with metal, so I taught myself to weld. I attended school and took years of specialized blacksmith classes from the renowned David Norries Studios. I have been a certified welder for over 20 years and have worked with numerous metals available to contractors. In addition, I am a licensed contractor, so I understand structurally what my clients need. As a master blacksmith, my focus is functional as well as artistic. As an artist, I strive to create pieces with a high level of detail by incorporating different metals and textures, all hand-forged. This unique, high level skill and precision, sets my work apart from others.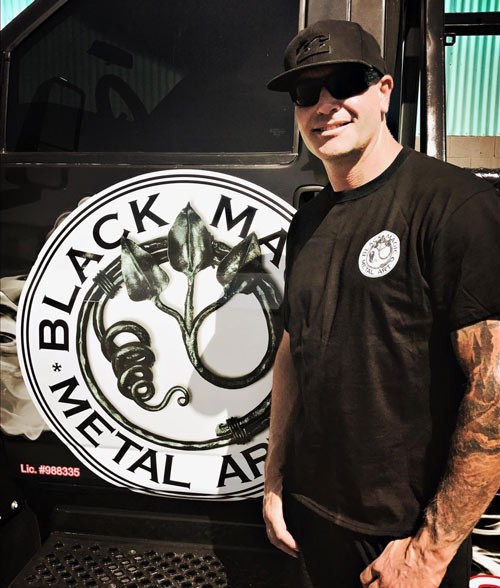 At Black Magic Metal Art Inc your not only getting a licensed contractor but an artist with a focus on design, function and detail.
In addition to blacksmithing, I have studied and experimented with different types of chemicals and its effects and reactions to metals. The mixing of acids and metals create a new dimension of textures and colors, making this an excellent option for custom countertops, tables, range hoods, or wherever your imagination takes you.
My inspiration comes from daily life and everyday things: music, people, art, and most of all Mother Nature. Growing up in the mountains of Colorado, and now living in Southern California, I have access to some of the most beautiful scenery, all of which add to my inspiration and creativity. In addition to nature, I find mechanics fascinating, and I am always curious as to how I can improve a design or add my own special twist.
I have a gift of taking my abstract ideas and creating a concrete, tangible piece of work, whether it is a handrail, table top, wall hanging, or wine rack. As an artist, my creative process can be considered out of the box. As I am creating each piece, I allow the unique properties of my materials together with my creative direction to dictate the outcome.
My clients include Michael Bay, director of Transformers, Simon Cowell, talent judge on American Idol and The X-Factor, as well as many other happy customers. I am a licensed, bonded, and insured contractor who is able to work on both residential and commercial properties. There isn't a project considered to be too difficult, too big, or too small. I look forward to working with you on your next project.
"Nathan was so prompt in getting back to me! He is quite professional!"Lisa S. in Thousand Oaks, CA